Ez egy olyan PCI-os tesztkártya, ami az esetleges alaplapi hibák felderítésében segít.
Biztosan már mindenkivel előfordult, hogy bekapcsolta az egyébként működőképes számítógépét és a bootolás nem volt sikeres, valamely alkatrész hibájából. Ilyenkor általában a számítógépet szinte "atomjaira" szétszedi a felhasználó és megpróbálja kitalálni mi a hiba oka. Az egyik megoldás lehet, ilyenkor, hogy az alaplapban csak a memória a processzor és a videokártya van benne és megnézzük elindul-e? Majd csatlakoztatjuk a winchestert és megpróbáljuk bootra bírni a gépet. Számtalan taktika létezik, most nem kívánom részletezni, helyette egy érdekes hibadetektáló hardvert szeretnék bemutatni.
Az igazán profi szervizekben célkártyát alkalmaznak a hiba felderítésére. Ennek egy egyszerűbb, de legalább olyan hatékony változatát kaptam meg Vécsi Sándortól tesztelésre. Ő készíti ezeket az úgynevezett POSTA kártyákat. Kicsit forcsának tűnhet az elnevezés, így pár szó erről:
Az alaplap mind az ISA mind a PCI buszra a bekapcsolás után speciális formában különböző üzeneteket ad. Ezek az üzenetek jelzik, hogy éppen hol tart a gép az egyes hardverek inicializálásával. Ezeket az üzeneteket (kódokat) POST kódoknak nevezik. Biztosan furán hangzott volna így a kártya neve "A" nélkül és így jött a misztikusnak hangzó POSTA kártya elnevezés.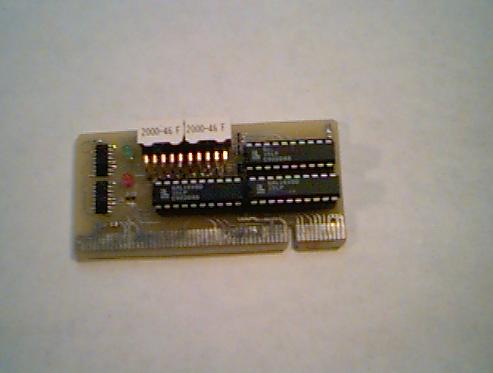 Ezt a hardvert a tesztelés megkezdése előtt egy szabad PCI helyre kell csatlakoztatni. Egy két digites kijelző és két LED szolgáltatja az információt. Az egész panel kicsi, így a legzsúfoltabb gépbe is könnyedén behelyezhető. A kijelző nagyon érdekesen lett elhelyezve: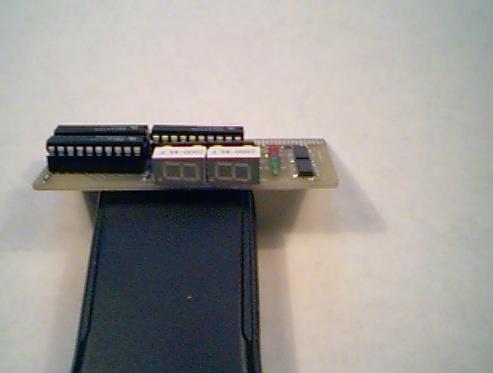 A két digit egymás alatt helyezkedik el, úgy, hogy amikor a felhasználó a kártyát bedugja a PCI csatlakozóba, az könnyedén leolvasható. Ezt fontos dolognak tartom, mert különben az esetlegesen mellette lévő kártyától nehézkes lenne a leolvasás.
Pl. egy AWARD BIOS a következő hexadecimális számokat küldi el a POSTA kártyának a bekapcsolás után:
Post (HEX)

Descriptions

C0

1.Turn off chipset cache

OEM specific cache control

01

Processor Test 1

Process status(1 flags) verification.
Test the following processor status flags
-carry, zero, sign, overflow
The BIOS will set each of these flags, verify they are set, then turn each flag off and verify it is off

02

Processor test 2

Read/Write/Verify all CPU registers except SS, SP, and BP with data pattern FF and 00

03

Initialize Chips

Disable NMI, PIE, AIE, UEI, SQWV
Disable video, parity checking, DMA
Reset math coprocessor
Clear all page register, CMOS shutdown byte
Initalize timer 0, 1, and 2, including set EISA timer to a known state
Initalize DMA controllers 0 and 1
Initalize Interrupt Controller 0 and 1
Initalize EISA extended registers

04

Test Memory refresh Toggle

RAM must be periodically refreshed inorder to keep the memory from decaying.
This function assures that the memory refresh function is working properly

05

Blank video, Initialize keyboard

Keyboard controller initialization

06

Reserved

 

07

Test CMOS Interface and Battery status

Verifies CMOS is woorking correctly,detects bad battery

BE

Chipset default initialization

Program chipset registers with power on BIOS defaults

C1

Memory presence test

OEM specific test to size on board memory

C5

Early shadow

OEM specific early shadow enable for fast boot

C6

Cache presence test

External cache size detection

08

Setup low memory

Early chip set initialization
Memory presence test
OEM chip set routines
Clear low 64K of memory
Test first 64K memory

09

Early cache initialization

1.Cyrix CPU initialization
2.Cache initialization

0A

Early cache initialization

1.Initialize the first 120 interrupt vectors with SPURIOUS_INT_HDLR and Initialize INT 00h-1Fh according to INT_TBL

0B

Test CMOS RAM checksum

Test CMOS RAM checksum, if bad, or insert key pressed load defaults

0C

Initialize keyboard

Detect type of keyboard controller & set NUM_LOCK status

0D

Initialize Video interface

1.Detect CPU clock
2.Read CMOS location 14h to find out type of video in use.
3.Detect and Initialize Video Adapter

0E

Test Video Memory

Test video memory, write sign-on message to screen
Setup shadow RAM - Enable shadow according to setup

0F

DMA channel 0 test

BIOS checksum test,Keyboard detect and initialization

10

DMA channel 1 test

 

11

DMA page registers test

Test DMA page registers

12-13

Reserved

 

14

Test timer counter 2

Test 8254 timer 0 counter 2

15

Test 8259-1 mask bits

Verify 8259 channel 1 masked interrupts by alternately turning off and on the interrupt lines

16

Test 8259-2 mask bits

Verify 8259 channel 2 masked interrupts by alternately turning off and on the interrupt lines

17

Test Stuck 8259's interrupt bits

Turn off interrupts then verify no interrupt mask register is on

18

Test 8259 interrupt functionality

Force an interrupt and verify the interrupt occurred

19

Test stuck NMI bits(Parity/IO check)

Verify NMI can be cleared

1A

 

Display CPU clock

1B-1E

Reserved

 

1F

Set EISA Mode

If EISA NVM (Non-Volatile Memory) checksum is good, execute EISA initialization(EISA BIOS only)
If not, execute ISA tests an clear EISA mode flag.
Test EISA configuration memory integrity (checksum & communication interface)

20

Enable slot 0

Initialize slot 0 (system board)

21-2F

Enable slots 1-15

Initialize slots 1 through 15

30

Size base and extended memory

Get base memory from 256K to 640K and extended memory above 1MB

31

Test base and extended memory

1.Test base memory from 256K to 640K
2.Test extended memory above 1MB using various patterns
Note: This will be skipped in EISA mode and can be "skipped" with ESC key in ISA mode

32

Test EISA extended memory

If EISA mode flag is set then test EISA memory found in slots initialization
Note: This will be skipped in EISA mode and can be "skipped" with ESC key in ISA mode

33-3B

Reserved

 

3C

Set flag to allow users to enter CMOS setup utility

 

3D

Initialize & Install mouse

Detect if mouse is present, initialize mouse, install interrupt vectors

3E

Setup cache controller

Initialize cache controller

3F

Reserved

 

BF

Chipset initialization

1.Program the rest of the chipset's value according to setup(Later setup value program)
2.If auto configuration is enabled, programmed the chipset with pre-defined values in the MODBINable Auto-Table

41

Initialize floppy driver & controller

Initialize floppy disk drive controller and any drives

42

Initialize hard drive & controller

Initialize hard drive controller and any drives

43

Detect & Initialize serial/parallel ports

Initialize any serial & parallel ports (also game port)

44

Reserved

 

45

Detect & Initialize math coprocessor

Initialize math coprocessor

46-4D

Reserved

 

4E

Manufacturing Post loop or display messages

Reboot if Manufacturing Post Loop pin is set.Otherwise display any error messages on the screen & wait for user to press key to enter setup

4F

Security check

If password is needed, ask for password


50

Write CMOS

Write all the CMOS values back to RAM abd clear scerrn

51

Pre-boot Enable

Enable parity checker, Enable NMI, Enable cache before boot

52

Initialize option ROMs

Initialize any option ROMs present from C8000h to EFFFFh
Note: When FSCAN option is enable, will initialize from C8000h to F7FFFh

53

Initialize time value

Initialize time value in 40h: BIOS data area by translate the RTC time value into a timer tick value

60

Setup Virus protect

Setup virus protection (Boot sector protection) functionality according to setup setting

61

Set Boot speed

Set system speed for boot

62

Setup NumLock

Program the NUM lock, typmatic rate & typmatic speed according to setup setting

63

Boot attempt

Set low stack and Boot system via INT 19h

B0

Spurious

If interrupt occurs in protected mode

B1

Unclaimed NMI

If unmasked NMI occurs, display Press F1 to disable NMI, F2 reboot

E1-EF

Setup Pages

E1-Page 1, E2-Page2, etc

FF

System booting. This means that the BIOS already pass the control right to the operating system

 
Ha bármivel gond lenne bekapcsolás után, akkor ott a gép megáll és látható a probléma okának hexadecimális kódja. Sok esetben azonnal eldönthető, hogy javítható-e a hiba vagy sem. Ugyanis itt Magyarországon is foglalkoznak pl. alaplapok javításával. És az az érdekes, hogy sok esetben megéri a javítás, mivel azt ha nem túl nagy a hiba pár ezer forintból meg lehet úszni, míg egy új alaplap több tízezer forintba kerül.
Persze az egyből kiderül a kódtáblázatból, hogy vannak olyan hibák, amivel nem lehet mit kezdeni, de vannak olyanok is, melyek pofon egyszerűen orvosolhatók. Ilyen pl. a "gyakran" előforduló párhuzamos illetve soros port hiba. Ha pl. a 43 kódot jelzi a kártya, akkor általában elég letiltani a hibás portot és a gép attól még üzemképes lehet.
Kipróbáltam én is mit is tud a kártya: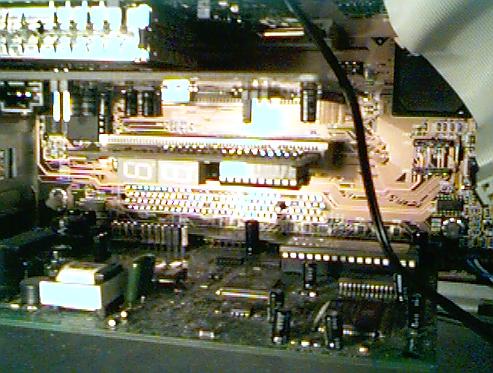 Az egyik teszgépben volt egy üres PCI hely, nosza belehelyeztem. Bekapcsolás után a zöld LED elkezdett villogni. Ez teljesen normális, ez azt jelzi, hogy a buszon van órajel. A kijelzőn számok jelentek sorra, annak függvényében, hogy hol tart az inicializálás. Voltak olyan pontok, melyeknél 1-2 másodpercig várakozott a gép, és voltak olyanok is, melyek csak rövid időre villantak fel. Az egyik hosszabb várakozás az ATA eszközök felderítésekor történt.
Próbaképpen néha megnyomtam a "pause" gombot, ekkor mindig megállt és mutatott egy kódot a kártya, pl: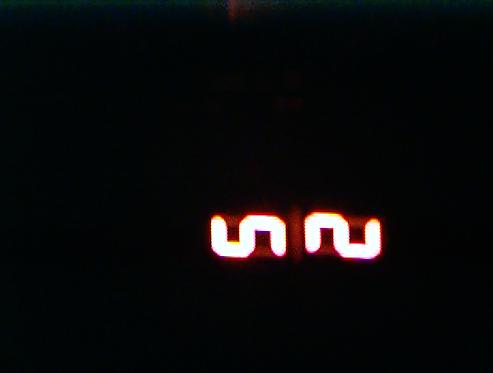 Sötétben fényképeztem le az eseményeket, így jól látszanak a számok. A táblázatban az 52-es hexa kódhoz a következő információt találtam: Initialize any option ROMs present from C8000h to EFFFFh Note: When FSCAN option is enable, will initialize from C8000h to F7FFFh. Vagyis a ROMok inicializálását szakítottam félbe.
A BIOS gyártók rendelkezésre bocsátják a kódtáblázatukat. Ezeket az Interneten viszonylag könnyen meg lehet találni. Ha adott a táblázat és a POSTA kártya, akkor gyorsabban találhatjuk meg az esetleges hibákat.
Természetesen nem célszerű ilyen eszközt tartani az egyéni felhasználóknak, hiszen jó esetben nagyon ritkán hibásodik meg egy számítógép. De ahol több gép van, és hozzáértő emberek is nyüzsögnek arrafele (pl. szerviz, bár a hozzáértő magatartás nem mindenhol látszik), ott sok időt és fáradságot lehet ezzel megtakarítani. A Taiwanról behozott tesztkártyák ugyan többet tudnak, van olyan is, amit egy másik PC-hez lehet csatlakoztatni, de a lényeg akkor is a kódokban van. Mindez Magyar, kisszériás termék. Nem is olyan drága, mint azt először gondoltam, egy közepes minőségű CD olvasót adnak ennyi pénzért.
Aki a tesztkártyáról további információt szeretne, írjon a következő e-mail címre.